Footage of officer 'kneeling on neck' investigated
London Mayor Sadiq Khan expresses concern about video of the "distressing arrest" in Islington.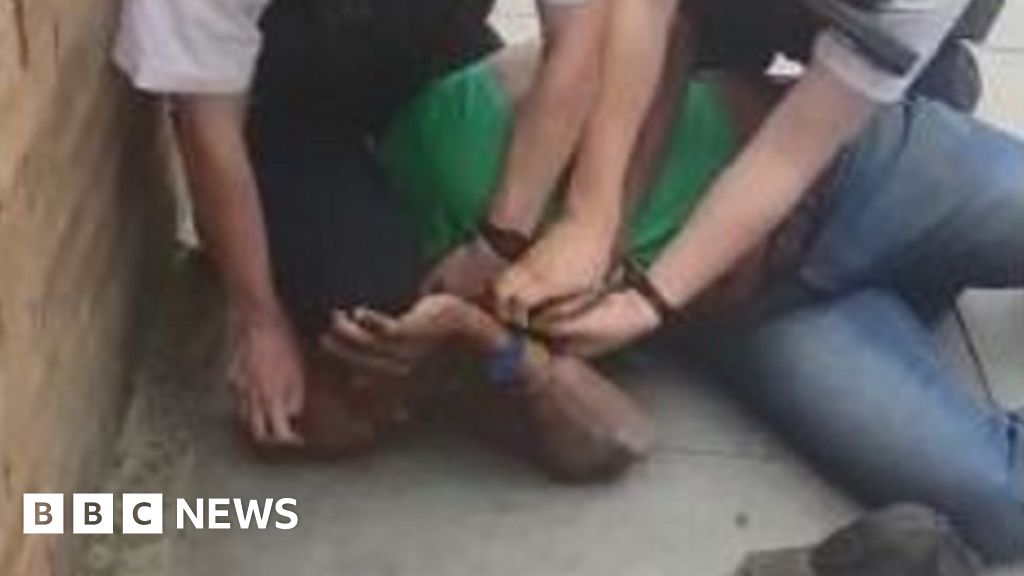 An official has been suspended after film rose that seems to show police stooping on a man's neck.
Video recorded in Islington, London, shows two officials holding a bound suspect, who is dark, on the asphalt.
A subsequent official has been expelled from operational obligation following the capture on Thursday evening.
Agent Met Police magistrate Sir Steve House said the recording was "amazingly upsetting" and had been alluded to the police guard dog.
The power affirmed it had charged a 45-year-elderly person with ownership of a blade in an open spot.
Marcus Coutain, of Islington, is expected to show up in guardianship at Highbury Corner Magistrates' Court on Saturday.
'Get off my neck'
In the recording, imparted to the BBC, one of the officials has all the earmarks of being utilizing his knee to control the suspect and has his hand on the man's head.
The man on the ground, who is in cuffs, consistently yells: "Get off my neck."
He is in the long run delivered from the beginning keeps on conversing with officials after they sit him up.
A few squad cars show up at the scene after the capturing officials are gone up against by spectators.
An onlooker told the BBC: "I was concerned he would get executed. That is exactly how George Floyd got murdered.
"Notwithstanding the groups recording the police they could have choked out him or broken his neck.
"He was on the floor and in cuffs, what's the explanation behind a bowing on his neck?"
Method 'not educated'
Sir Steve stated: "The video film that I have seen today and is flowing via web-based networking media is incredibly upsetting.
"A portion of the methods utilized reason me extraordinary concern - they are not instructed in police preparing.
"One official has been suspended and another official has been expelled from operational obligation, however not suspended as of now. This choice will be held under audit."
The man had since been seen by a specialist, Scotland Yard said. It has likewise alluded the capture to the Independent Office for Police Conduct (IOPC).
BBC home undertakings journalist Danny Shaw said Sir Steve's remarks were exceptionally surprising both in tone and substance, especially in light of the fact that the power had seen police body-worn film which has not been made freely accessible.
He included that the previous Police Scotland boss constable had whined not long ago that a few officials were by and large unjustifiably focused on in light of internet based life cuts which didn't show the full setting of circumstances.
London Mayor Sadiq Khan stated: "I'm profoundly worried about this upsetting episode and we have raised this with senior officials at the Met Police as an issue of criticalness.
"I invite the reality the occurrence has been checked on rapidly by the Met and it's correct that they have alluded it to the IOPC."
The IOPC said it would lead a free examination, as per the Met.
Sources By:-BBC.com