If you're set on furthering your yoga journey in this spiritual landscape, you will be pleased to know that India offers some of the most affordable yoga teacher training courses.
No matter where you decide to train, you are guaranteed a life-changing experience and a fantastic opportunity to immerse yourself in the spiritual and cultural wonders that India has to offer.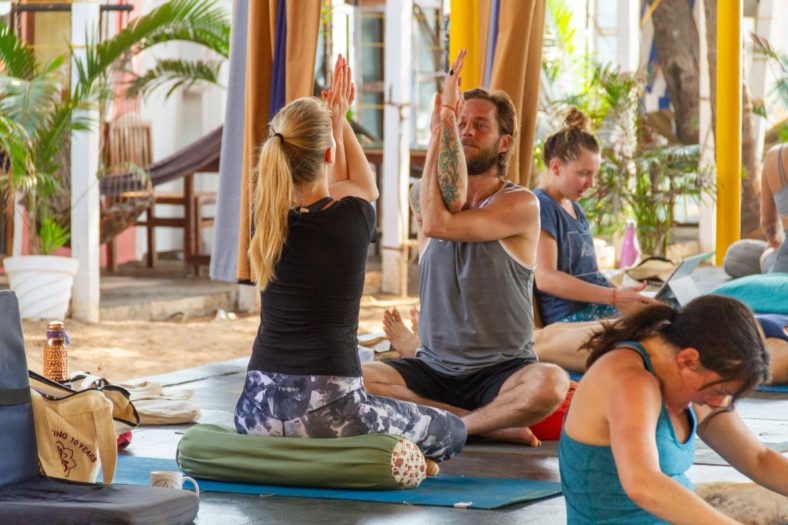 Best Yoga Teacher Training in India
Kranti
Kranti is located on Patnem beach in South Goa. The school offers residential packages with apartments and cottages overlooking the beach and delicious traditional Indian vegan food. The spacious 'village' is a tranquil environment for full immersion in your yoga studies. The Ashtanga and Vinyasa focussed teaching course to merge the traditions of yoga with western contemporary thought. Attention is given to learning how to teach yoga in a modern setting, with technical workshops, alignment, and anatomy modules. What's more, they are currently offering a 20% discount on courses booked more than 3 months in advance.
Location: Goa
Style: Vinyasa Flow & Ashtanga/Yin
Website: www.krantiyoga.com
2. Trimurti
Trimurti is a well-established school with locations all over the world. In India, their schools are on the coast in Goa and in the Indian Himalayas of Dharamsala. Described as 'a yoga laboratory', The centre offers a well-rounded mix of traditional Hatha Yoga and modern styles of Vinyasa Flow, Yin, and Aerial. Their multi-style 200hr course emphasizes practical learning and working with diverse body types.
Location: Goa or Dharamsala
Style: Multi-style/Vinyasa Flow/Yin
Website: www.trimurtiyoga.com
3. SWAN
SWAN is a spiritual haven where you can experience a traditional yoga lifestyle and connect with nature. During the 200-hour yoga teacher training, students get to experience a holistic yogic experience as part of a community in an Indian temple. The Gurukula style of teaching is devoted to an authentic yoga lifestyle incorporating a yogic diet, meditation, and chanting practices. SWAN is an ideal teacher training for those wanting to dive into an authentic yogic experience. Additional courses include Ayurvedic knowledge and diet consultation.
Location: Goa
Style: Hatha
Website: www.swan-yoga-goa.com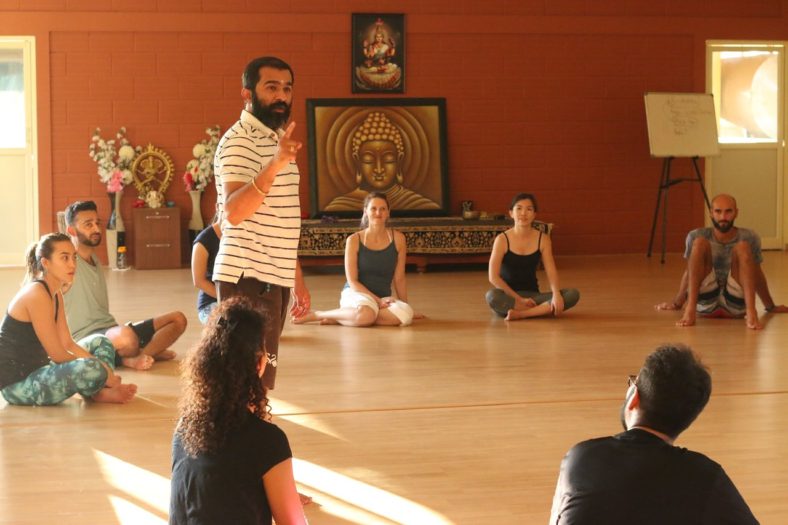 4. Samyak Yoga
If you are serious about learning Ashtanga yoga then the most renowned place to study is in Mysore, India. Samyak is situated in an ashram on the banks of the Cauvery River. Students learn traditional Ashtanga methods led by Indian masters in an idyllic setting with few distractions. The 200hr and 300hr courses cover a traditional basis of yoga, incorporating meditation and techniques of pranayama and kriya. The ashram also offers Hatha and Vinyasa courses. While you will be living Ashram-style, the location is far from basic, with comfortable rooms complete with wholesome Ayurvedic vegetarian food.
Location: Mysore
Style: Hatha/Vinyasa/Ashtanga
Website: www.samyakyoga.org
5. Rishikul Yogshala
With schools in Rishikesh and Varkala, Rishikul's courses offer a variety of interesting and diverse elements including Ayurveda, Kalaripayattu (a form of Indian martial arts), and laughter yoga. In line with Ayurvedic philosophies, students also learn the art of yogic cooking and how to create a yogic balance in everyday life. One of the more affordable schools in India, it offers a variety of accommodation options as well as scholarships for those who are eligible.
Location: Rishikesh or Kerala
Style: Multi-style (Ashtanga/Hatha/Vinyasa/Kundalini/laughter yoga)
Website: www.rishikulyogshala.org
6. AYM (Association for Yoga and Meditation)
One of the most popular yoga schools in Rishikesh, AYM is highly praised for its experienced yoga teachers and thorough training program. Their 200-hour yoga teacher training offers classes in a wide variety of styles including the alignment focussed Iyengar. In addition, it's also a well-respected Ayurveda centre, offering specialized courses in the ancient discipline. Students get to enjoy Ayurveda-inspired nutritious vegetarian meals daily. For those who prefer the beach to the mountains, AYM also has a school in Goa near the trendy Arambol beach.
Location: Rishikesh or Goa
Style: Multi-style (Hatha, Iyengar, Ashtanga-Vinyasa)
Website: www.indianyogaassociation.com
7. Anadi Yoga Centre
The highly reviewed Anadi Yoga Centre in Rishikesh has small class sizes and a comprehensive syllabus of Hatha and Vinyasa yoga, anatomy, and physiology. While it doesn't offer early-bird discounts, course fees include 3 meals a day, private accommodation with an en-suite bathroom, and sightseeing excursions.
Location: Rishikesh
Style: Hatha & Vinyasa Flow
Website: www.anadiyogacentre.com


[ad_2]

All Images/Sources/Credit By :- WomenFitness.Org